This is the 2020 updated edition. The original was published here and has been viewed by over 130,000 times.
—
So you're looking for a new backpack, eh?
But you're not looking for any old bag; you're looking for the backpack? I'm with you – and it's not an easy task. With 100's of options out there – where do you even start?!
After spending several months thinking obsessing about which backpack to choose, I narrowed it down to the top 5 backpacks.
What I was looking for:
Carry on sized
45L or less
Lie flat packing (Clam shell design)
While we're on the subject, stop reading and quickly write down the top 3-5 backpack features that fit your needs………… are you done? Good, this list will prevent you from getting overwhelmed later.
This guide was designed to make choosing the right backpack a breeze! (or at least give you a starting point)
I will share which pack Anne and I chose at the end, however you couldn't go wrong with any of these
Let's start the high level overview…
Carry on Backpack Comparison
Alright lets move on to the individual reviews…
The smallest backpack on the list (35L) but don't let that fool you – you can fit a lot in this pack. Video to prove it.
There is a lot of buzz surrounding this company and backpack. Rightfully so, the "Brothers Minaal" completed a record breaking Kickstarter Campaign. The Minaal is the only pack on the list that comes with a rain cover – while not a crucial feature, it will save you the hassle of finding a 3rd party rain cover (if that is important to you). This sexy backpack is feature rich and has the best overall design – if Steve Jobs was a 25 year old digital nomad, he would choose this pack.
In 2016, Minaal launched their carry on backpack 2.0 and a daypack on Kickstarter to the tune of $700k. They also expanded to include packing cubes, modular hip pads, and accessories. Minaal is here to stay. Full product line at Minaal.com
Potential downside: The Minaal doesn't have hip pads which means if you have a heavy pack and plan to wear it for long periods of time it might start to hurt your shoulders. They went for a minimalist design (which I appreciate). In my experience the lack of hip pads didn't negatively impact my experience.
2018 update: Started using the Minaal for weekend trips and shorter backpacking trips. Although it's only 35L it fits a surprising amount thanks to the minimalist design. It's sleek, it's sexy, has great handles, and I love using it.
The Farpoint is sleek and the lightest pack on the list. Not a huge deal, but every ounce counts. The Farpoint 40 comes in two sizes: M/L for the guys (and girls over 5' 8") and S/M for everyone else. Osprey is my favorite brand on the list because time and time again they create awesome gear (been using their Aether 70L for back-country camping excursions for years). Note: If you're less than 5'3" – look no further, this IS your pack. Get the S/M size and you'll never look back.
Potential downside: Without a side holster spot for a yoga mat, you'll have to get creative with your yoga mat if that's important to you.
2018 update: Anne has been using this pack since 2014 and still loves it.
This is one bad-ass backpack. Originally designed for military use – anticipate a rugged designed build to last a lifetime (you can even get it in camo color). It looks great and is practically indestructible, but a few things held me back from purchasing. The GR2 is by far the most expensive backpack on the list and also the only one without hip pads or the option to zip away the back straps. Although an awesome backpack; probably not my first choice for digital nomads.
Potential downside: Price tag ($395) and lack of hip pads could make long walks to find your hostel miserable.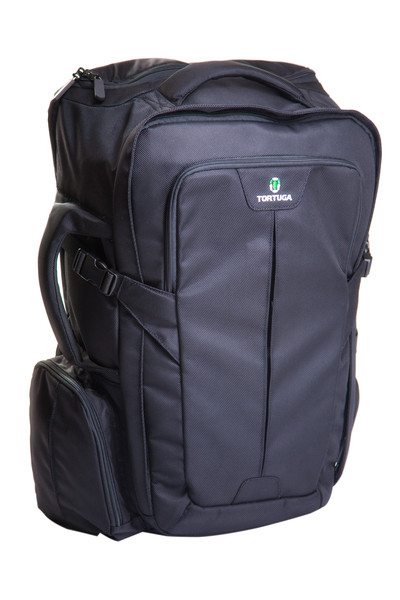 Fred and Jeremy were frustrated with the backpack market so they decided to create their own bag. If you ask me, they did a mighty fine job designing the Tortuga V2. In terms of size, it's the second largest on the list (44L) yet maintains its carry-on friendly status for most airlines. The Tortuga's hip belt has the best padding I've seen in this class of backpacks. The internal compression straps were a nice touch and will help you maximize space.
Potential downside: it only comes in one size, while it fit me great (6'3'') it was uncomfortable on Anne's smaller frame (5'2'')
2018 update: I've been using this pack regularly for several years
You already know I love Osprey. The Porter is the largest pack on the list (46L), extremely light and also the cheapest. I personally do not like this design, but many people use it. If you want to save a few dollars, don't need an easy access laptop compartment or a padded hip belt, you found a bag that will do the job!
Potential downside: Hip belt has no padding and there isn't a laptop compartment which to me is unacceptable for long term travel
2018 update: they've come out with an updated design and I haven't had a chance to test it out. It looks way better, feature set improved, and increased the price to $139 which seems fair. If you have experience with this pack please share in the comments below!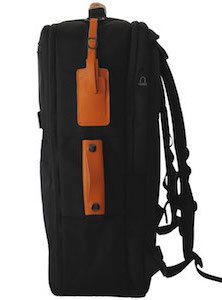 This Toronto based company is the new comer on the scene. After a successful Kickstarter Campaign, they moved into full production. I was fortunate enough to receive an early run of the product to test out. It has all the features we need – laptop compartment, clam shell design, enough space while staying carry-on compliant, and looks great too. As with all new products, durability is a question as no one has owned the bag long enough 
Happy to say it's an excellent product and is contenting with the Tortuga V2 and the Minaal as my favorite carry on backpacks for digital nomads or travelers.
After much consideration, here is what The Yoga Nomads selected…
2018 update: Brandon still uses the Tortuga most of the time but rotates in the Minaal for shorter trips. Anne still loves her Farpoint. We've been traveling with the Tortuga, Minaal, and Farpoint since 2014/2015.
Let's wrap up
Hopefully this helped you narrow down the right carry on backpack or yoga mat travel bag for you! I know it can be a daunting task, however you can't go wrong with any bag mentioned in this article 
Until next time,
Brandon